PUPPIES EXPECTED DECEMBER 22nd!!

Clicking the stork will deliver you to our PUPPY page for photos and more information!
CHECK OUT MY ~Dogs for Sale~ PAGE FOR OLDER PUPPIES AND STARTED DOGS!
BESIDES THE EXTREMELY SPECIAL SALLY x LAD LITTER DUE THIS DEC. 22nd, I AM ALSO PLANNING TWO LITTERS THIS YEAR... WILL x SHANNON AND TANK x GRACE. WILL IS A PROVEN STUD, HOWEVER, THIS WILL BE A FIRST TIME BREEDING OF BOTH OF THESE PAIRS. THOSE INTERESTED IN BEING PLACED ON THE WAITING LIST FOR EITHER OF THESE LITTERS MAY CONTACT ME FOR AN APPLICATION. APPLICATIONS WILL BE HELD IN "HOLD" FILE UNTIL LITTER IS PLANNED. APPLICANTS RECIEVE FIRST NOTICE OF BREEDINGS. NO DEPOSITS TAKEN UNTIL PUPS ARE BORN.
PEGGY SUE is a pup from KATIE'S second litter.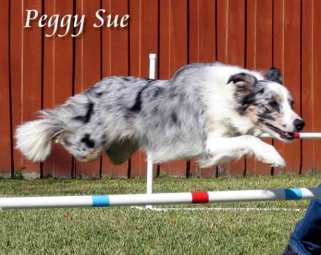 PEGGY SUE competes in Agility and is a much loved and pampered Pet.
HEY FOLKS! HOW ABOUT A RESCUE??
I WILL LIST ANY NEW DOGS AS THEY COME IN. PLEASE CHECK THE RESCUE PAGE OFTEN. (THEY) NEED YOUR HELP!
ADOPT A FRIEND AND SAVE A LIFE!
CLICK THE LINK BELOW.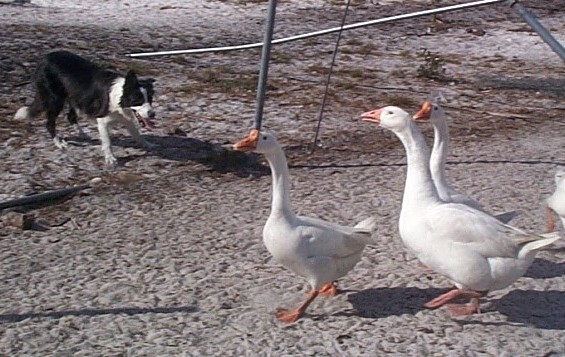 Katie "putting the geese away". She was such a good girl!
Our Border Collies are bred from some of the finest historical working bloodlines in the world. We strive to achieve solid working dogs with temperament and soundness our top priorities.

We sell our puppies to working homes, but they are equally comfortable as agility and flyball athletes, police and service dogs, and trustworthy family pets. Our puppies are active, biddable and extremely intelligent.

WE DO NOT sell to puppy mills, pet stores, backyard breeders or brokers, and all new homes must be approved. So if you are interested in one of our puppies as a pet, please be prepared to fill out our adoption application and sign a spay/neuter contract. The only exception will be to serious working farm homes or accomplished trialists. ABCA papers will be held until proof of spay/neuter. Email or call for application.

Purchasing a puppy from our kennel does not end there. We offer full health and temperament guarantees in writing on all of our puppies. When you purchase a puppy from our kennel, you can rest assured that it has received proper socialization, nutrition, vet care and parasite control appropriate to the age of the puppy. Our puppies are exposed to home appliances and outside noise, cats, dogs, children and auto travel. Never has a carsick puppy left my kennel!

We encourage all puppy buyers to call anytime with questions regarding a new puppy or the Border Collie breed in general. Every pup that leaves our home is a precious and wonderful little life. Their health and wellbeing are very important to us. We do keep in contact with our puppies throughout their lifetime and strongly encourage communication with us. You will also be invited to our yearly puppy reunion!


OUR BELOVED KATIE aka "KATYDID"
THIS SWEET FACE IS KATIE WHEN SHE WAS 2 YEARS OLD.
In Loving Memory
KATIE
8/24/99 - 7/10/04
On the 10th of July, 2004, our beloved Katie was involved in a fatal accident. She was taken from us in the prime of her life just before her fifth birthday. She is sorely missed and has left a great void in our hearts and lives. Katie was the sweetest, most loving dog we ever knew. She loved children and was always ready to take care of babies... of any species. She made a lasting and loving impression on anyone who ever met her. She could never be replaced if I were to live a dozen lifetimes. Her memory will live forever in our hearts.
SHEP - PHOTO TAKEN 3-23-05
THIS GORGEOUS FACE IS SHEP AS A 3 YEAR OLD.
In Loving Memory
SHEP
12/5/01 - 8/22/06
On the 22nd of August, my daughter's beloved Shep aka "Shepperdoodles" was humanely euthanized. My daughter and her husband were transferred by the Army from Georgia to Minnesota. Shep seemed fine. About three weeks after arriving in MN, Shep started drinking water excessively and having accidents in the house. They took him to the vet who ran a full CBC, blood, urinalysis, etc. He could find nothing wrong. Two days later, Shep stopped drinking all together and became apathetic and showing signs of general malaise. He gave up food the day after, and refused to play any of his favorite games. He became unable to stand without falling down and he had no balance. There were no weekend vets in the town they had moved to. They had to force feed him through the weekend. Throughout Sunday night he suffered repeated siezures. First thing in the morning he was taken to the vet and became comatose after receiving medication. The vet kept him overnight for observation and did all she could to save him, however, he never recovered. In the morning, she suggested euthanasia. His body was sent for a necropsy and he was found to have a 1-1/2" tumor in his head adjacent to his pituitary gland. She said he would have never survived surgery and the tumor was of a very aggressive type. Shep started out life as a teeny little runt puppy, had to be bottlefed from 4 days on, he severely injured his knees trying to climb a baby gate as a puppy, crippled his entire life, and arthritic in both knees, he never complained. Then his life was ended at almost the same young age as his mother, our own dear Katie. Shep suffered a lot of pain throughout his short life, but he never suffered a lack of love. He was my daughter's child and loved just as much as a real child. He will live forever in all of our hearts. My daughter could not quite let go. Shep was cremated and will remain by her side forever and always in her heart.
We breed for temperament first and foremost. Our dogs make excellent pets and are good with children, provided they are socialized and trained properly. However, they are hard working and have keen instincts. They are perfect for herding and working dogs, but also sports like agility and frisbee, or just plain jogging partners. Our dogs do have an OFF switch but turn on when necessary.


At present all of our puppies are registered with the ABCA. Now that the ABCA has decided to ban the AKC dual registry. No AKC dogs that have been shown AKC and received any "championship points or title" can be registered with the ABCA, nor can their offspring. I do not show my dogs and none have any points with the AKC. The AKC has decided to revise it's standard to include working type border collies as opposed to the Barbie doll BCs shown previously. My pups will continue to be registered with the ABCA. I have always preferred the ABCA type dog over the AKC type and have always geared my breeding to that end. The new AKC standard states that the 19"-22" height is no longer a disqualification, and recognizes that dogs from working heritage are often of a larger type. They are accepting both smooth and rough coat types and dogs will not be counted against for smooth or medium coats. Since the standard has been changed, more working type BCs are winning in the ring against the Barbie doll types. AKC also agreed to accept all ear types except "hound" ears. At this writing, there are even two champions with Katie's ear type (one up, one down), which would not have been acceptable in the old standards! Many breeders are now being forced to choose between the two registries. The AKC will accept ABCA registered dogs until the year 2006, but the ABCA will reject any dog with a show history. The ABCA claims the AKC breeders are changing the breed and are detrimental to the original breed. However, I know of no working, herding, trialing breeder that will breed their dogs with the "barbie doll" show dogs that look more like black and white shelties rather than border collies. They have become naturally segregated. They have basically become two totally separate breeds with the same name. The ABCA is making a mistake in my opinion. They are not only forcing many members and top quality breeders to make a choice they don't want to make, but they are losing many members due to their unreasonable decisions to keep the two registries separate. They were not losing quality working dogs to the AKC. The AKC people had developed their own dog, vastly separated from the original dogs they started with, just as they have with most every breed they get their hands on. I do not prefer the AKC, however, the AKC does offer more than the ABCA does for the general public. I don't believe in altering a dogs looks for the show ring. However, I see nothing wrong with a versitile breed being used for other sports besides just "herding". BCs excel in frisbee, agility, flyball, search and rescue, service dogs, bird dogs, and so much more. Why limit their abilities? ABCA wants to control the genius. As long as a dog is happy doing what is asked of it, I see nothing wrong with them doing other jobs besides herding. I will continue breeding my highly intelligent, working bred, versatile border collies with original working ABCA pedigrees. However, I will not force buyers to limit their potential, because some herding person thinks it's wrong to let them do something besides moving sheep and cows around!
My dogs are NOT show dogs. They are working dogs and are working bred. I have sheep and horses, had geese and goats, and my dogs have helped around my farm, which is what they were bred to do. However, if someone wants one of my pups for a frisbee dog, I see nothing wrong with that. And since the ABCA won't sanction any frisbee competitions (or agility or whatever), then they are making the choice for me. I am not making this "choice". I am being forced into it. My pups are all registered with the ABCA. I will continue to register my pups with the ABCA, but if they wish to register them with the AKC, I have not objection to it. I will leave the decision up to the people purchasing my dogs if they wish to register their pups with the AKC. Also, since I require spay/neuter on my puppies, I know that my dogs will not be bred to any show dogs and will not be able to alter their temperaments or conformation. They will just be good dogs out there doing good things. End of discussion. At least temporarily, my buyers will have a choice.
end