One evening an old Cherokee told his grandson about a battle that goes on inside people. He said, "My son, the battle is between two 'wolves' inside us all.

One is Evil. It is anger, envy, jealousy, sorrow, regret, greed, arrogance, self-pity, guilt, resentment, inferiority, lies, false pride, superiority, and ego.

The other is Good. It is joy, peace, love, hope, serenity, humility, kindness, benevolence, empathy, generosity, truth, compassion and faith."

The grandson thought about it for a minute and then asked his grandfather: "Which wolf wins?"

The old Cherokee simply replied, "The one you feed."

SNAIL MAIL US AT:
Debby's Dogges
P.O. Box 305
DeLand, FL 32721-0305
NOTICE: This address is for mailing purposes only.
Please address checks to "Debby Jusick", not to my kennel name. Thank you.
CALL US AT
:
(352) 357-2525
EMAIL US AT
:
way2medeb@hotmail.com
or just click on the link below!
NOTE: I ALWAYS answer my emails. I check them daily and try to reply as soon as I get an email. However, if you email me and do not hear back from me, please, either email me again or call me. Sometimes the Hotmail server I use gets weird. Please know that if you don't hear back from me, there is a reason, as I am very prompt with my returns.

Our physical address is in Eustis, Florida, just west of DeLand.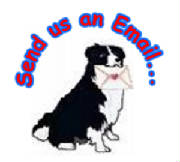 Please tell us how or where you found the link to our website! Thanks!