NOTE:
This is a very photo saturated page with lots of information. Please be patient for it to load, and don't miss all the info and stories on this page! Don't miss the happy ending... Lazarus' story!
"Pit Bull Blues" by John Shipe
Everyone should read this page and all of it's attachments.
There is a dangerous scandal going on in our country. There are groups focused on taking all of our pets away from us. They do not believe anyone should "own" an animal of any type. They are currently focusing on the Pit Bull dogs and all "Bully" breeds, including but not limited to...
Boxers, Mastiffs, Rottweilers, Boston Terriers, English Bulldogs, French Bulldogs, Dogue de Bordeauxs, and dozens more. This is an agenda that is not to protect us, but to remove these breeds from the pet owners. Once these breeds are legislated out of our hands, they WILL begin to focus on all other breeds.
BORDER COLLIES are on their list!!!!
No breed of dog will be safe if they get their way. Thousands of very gentle, very loving pets have already been killed due to legislation in California and South Florida. They are now illegal to own and families have had to have their loving, healthy and beloved pets put to sleep! Many families have had to move out of their homes and leave these states to protect their family pets. They are being killed because of their BREED not for any wrong doing or transgression on their part.
This can't go on! We need to stop this America! Don't let more of our Freedoms and Constitutional rights go down the toilet because of a few obsessed psychos!
STOP supporting groups who are trying to take away your rights as a pet owner.
STOP sending your money to groups who are using it to work against you and your pets! (You'd be surprised who they are!)
STOP hiding your head in the sand!
This is really happening! Sweet loving and gentle pets are being killed due to this legislation, and the media is blackballing certain breeds and LYING to you about them. It is all part of their horrible, sneaky, cruel agenda.
People, PLEASE, do some research! Stop listening to the "bull" and get the facts.
Support the NAIA!
(National Animal Interest Alliance)
National Animal Interest Alliance
Opposing PETA, HSUS, ALF, ELF and other extremist,
terrorist groups. Click the photo link and check out the NAIA
website. See the hypocracy and secrets these groups don't
want us to know! If you love your pets, if you love your
constitutional rights, if you care what becomes of our dogs,
cats, horses, etc., you MUST see this website!
WARNING!!
THE PHOTOS BELOW MIGHT BE ALARMING TO THE SQUEAMISH OR FAINT OF HEART! IF YOU DO NOT FEEL STRONG OF HEART AT THIS TIME, OR IF YOU DO NOT FEEL LIKE YOU CAN VIEW THESE PHOTOS WITH AN OPEN MIND, PLEASE DON'T LOOK.
Baloo meets puppies for the first time. Pups go outside for the first time loose in the yard... 6-17-08.
...and the big guy is still with us, thank God.
STORY FOLLOWS PHOTOS...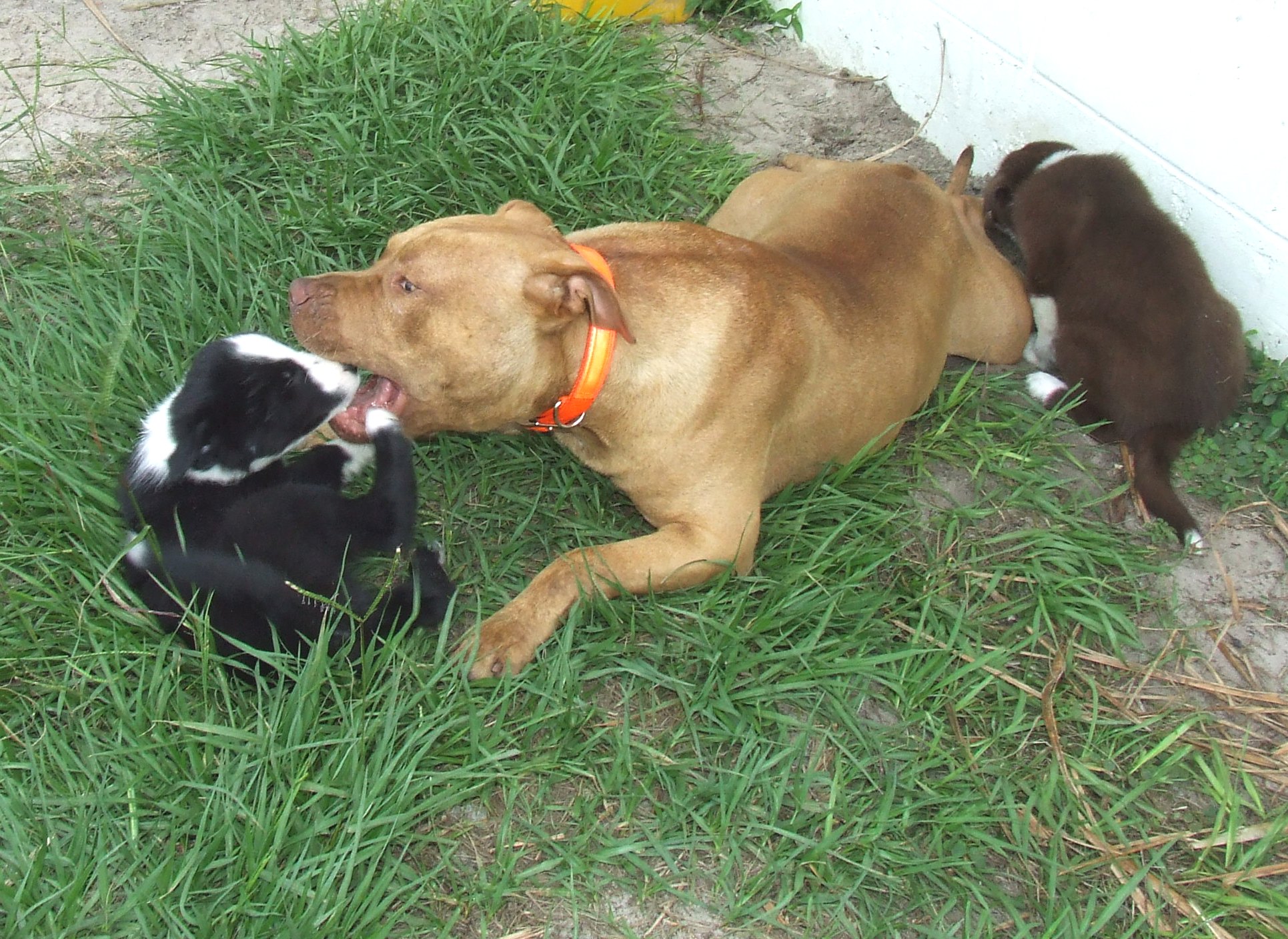 THIS IS BALOO, MY PIT BULL DOG, MEETING PUPS FOR FIRST TIME IN HIS LIFE.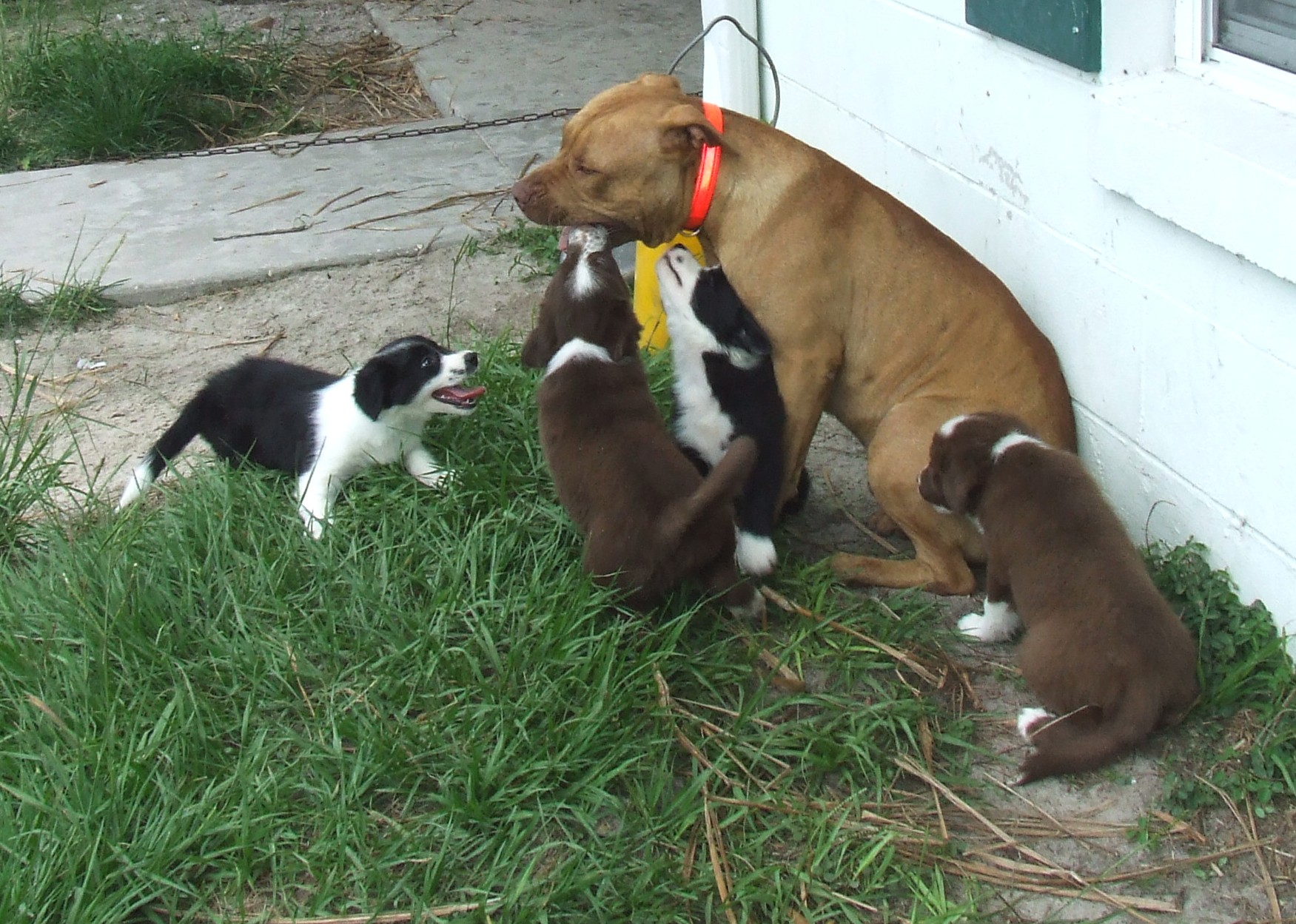 HE NEVER BIT ANY OF THEM, BUT THEY KEPT STICKING THEIR HEADS INTO HIS MOUTH!
SOMETIMES THEY SWARMED HIM AND HE WAS SO PATIENT AND GENTLE WITH THEM.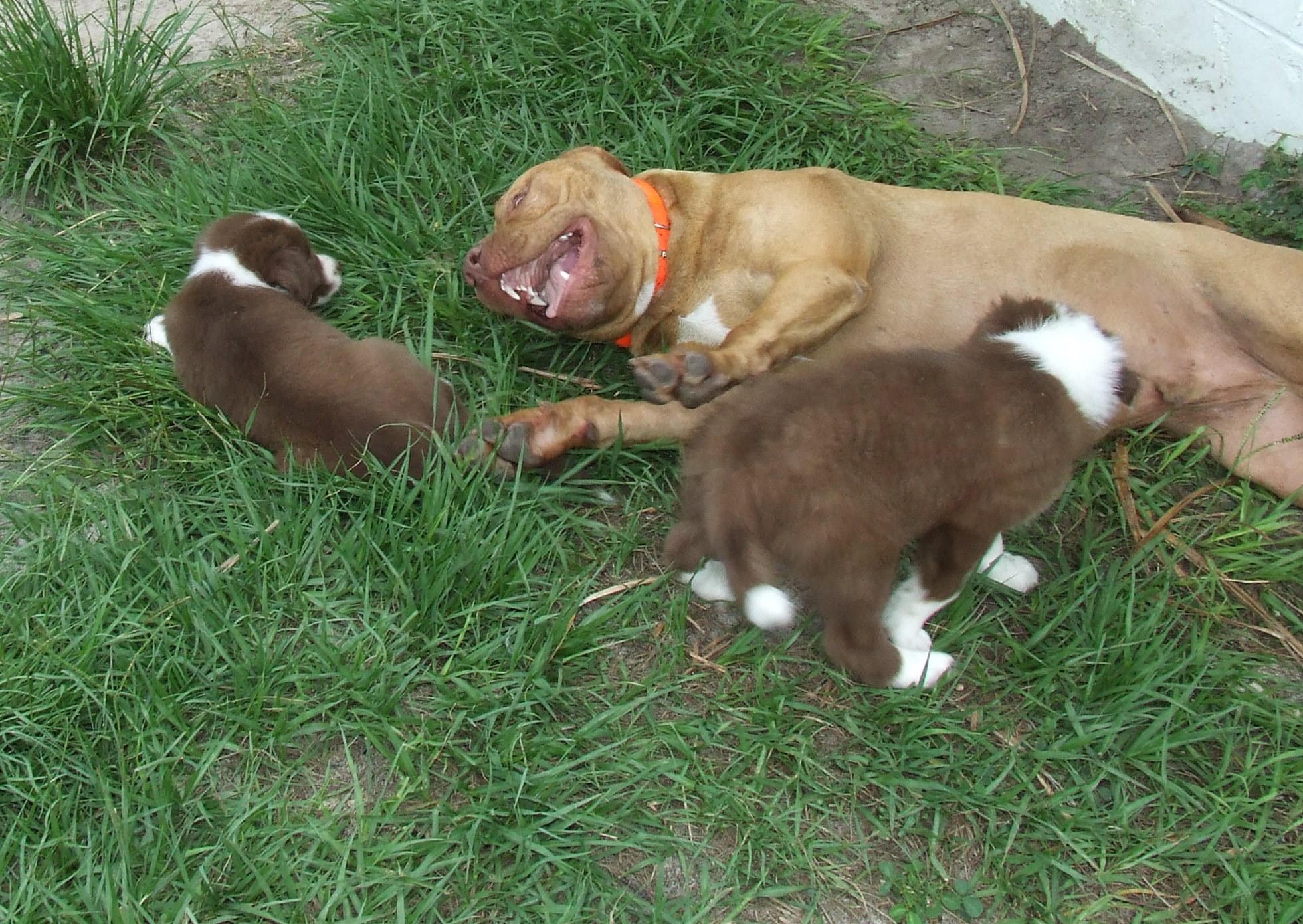 HE LOLLED ABOUT WITH THE PUPS AND NEVER EVEN STEPPED ON ONE OF THEM! LOOK AT THAT SMILE!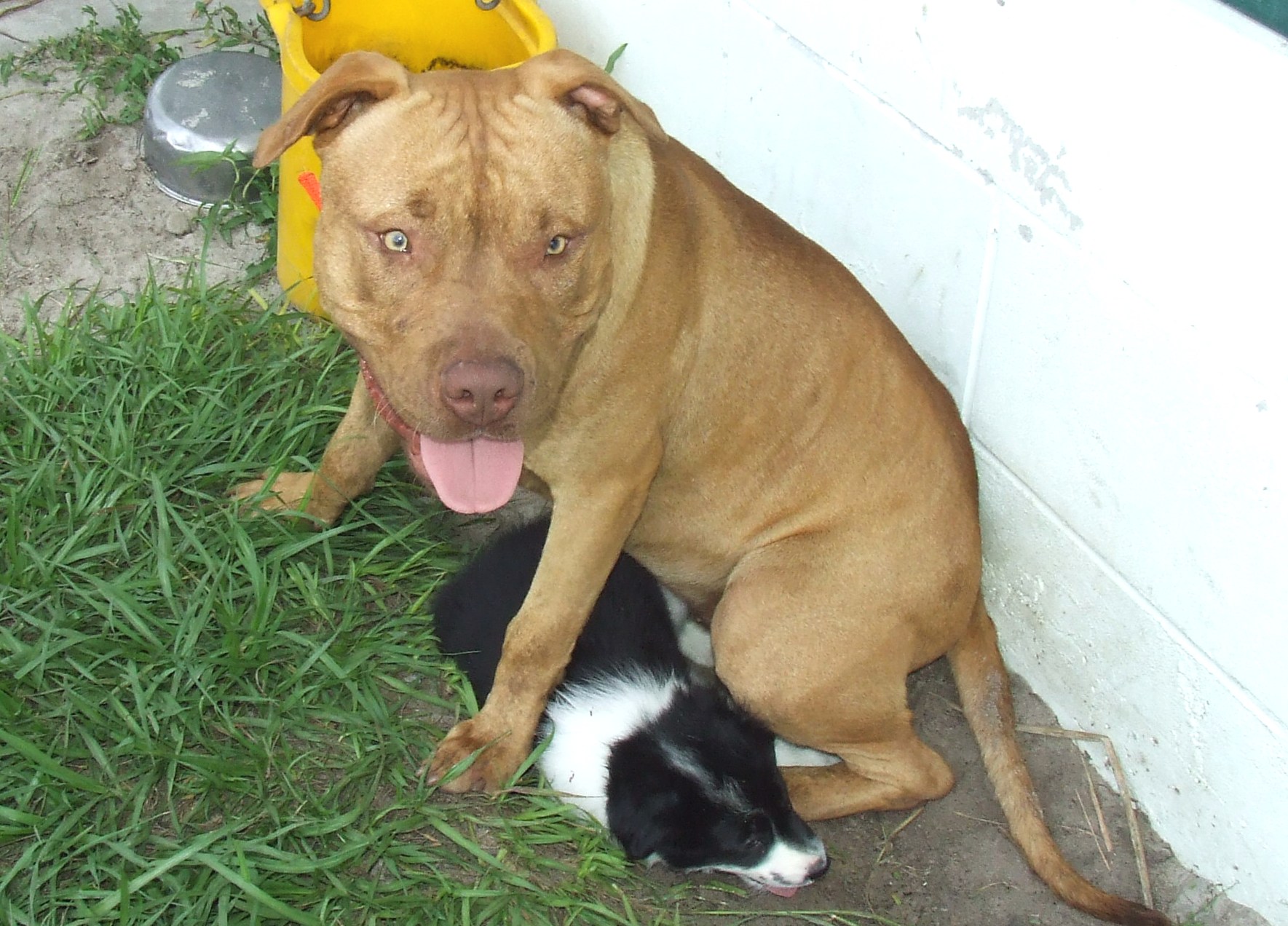 LITTLE KATIE WAS NUTS ABOUT HIM. SHE FOLLOWED HIM EVERYWHERE, AND WAS ALWAYS UNDER HIS FEET.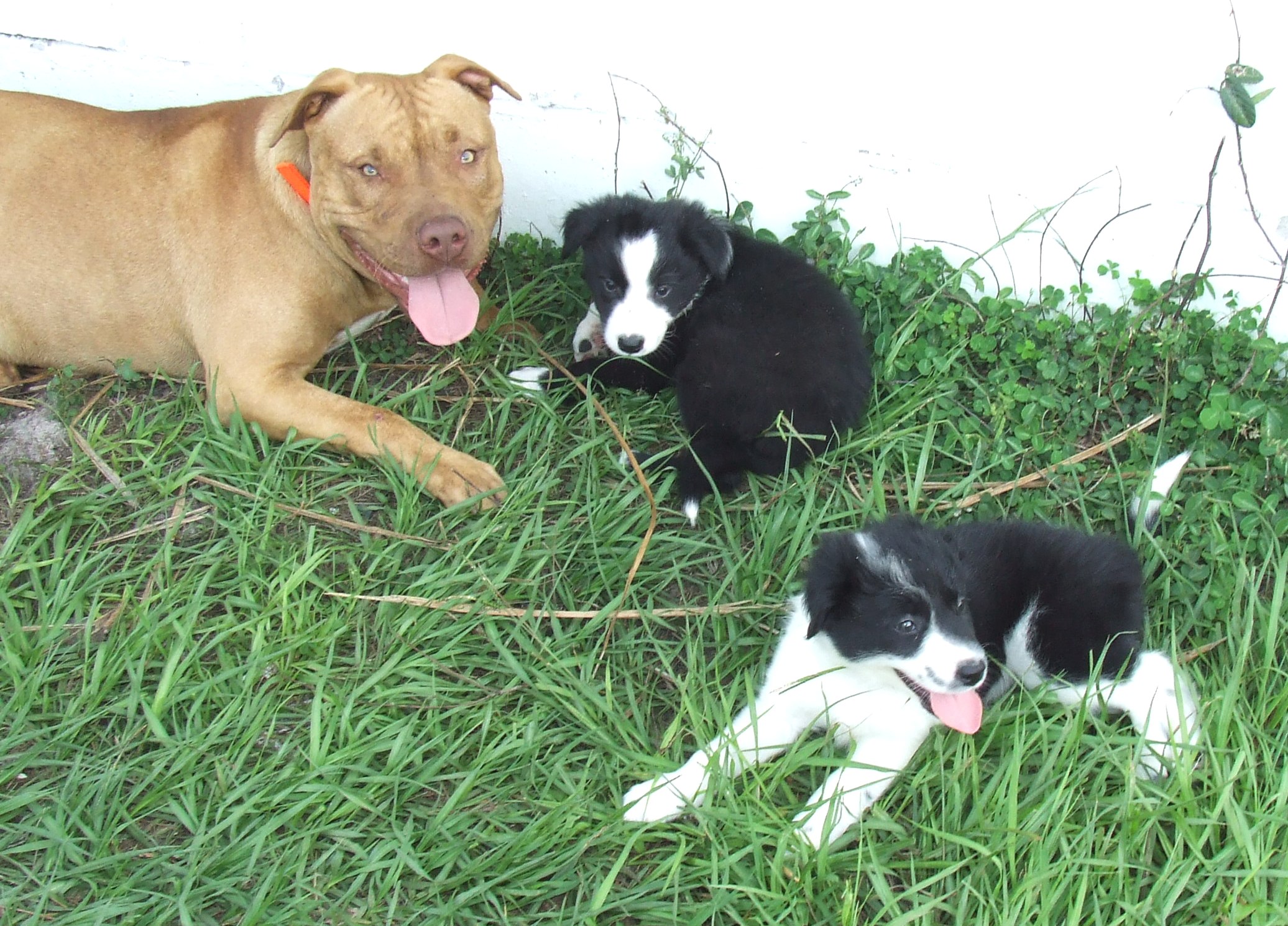 WHAT IS VICIOUS ABOUT THIS DOG? WHY DOES THE MEDIA TORMENT THEM SO?
I adopted Baloo when he was 6 weeks old. He was so young and small, but was already built like a pork roast. He was muscular and had skin that stretched a mile. His face was wrinkled and he was brindled. Most of the brindle markings are gone now.
I brought him home, gave him a bath and put him down to play. He kept running into things and bumping into everything. I took him to the vet, and as I feared, my pup was completely blind. The breeder offered to replace him, but I already loved him and was afraid of what would become of a blind pit bull. I decided to keep him.
Baloo was named after the big goofy "bear necessities" bear from the Jungle Book story. Most times we just call him "Bubba" or "Putz" when he crashes into things. ...In a loving way, of course. Sometimes I even call him "Bubba-loo".
Baloo is truly a lover, not a fighter. I don't think he would attack if his life depended on it. He has never met anyone he didn't love. He gets along with all of the dogs, but can get too "pesty" sometimes and they will growl or snap and he will immediately roll over submissively. He is not a wuss and will protect his food. He's just not a fighter. He will also bark if he hears something as we do have bears out here and they intimidate him since he can't see them. But he has never been a trouble maker and has never growled or showed his teeth at anyone or any of the dogs. He doesn't even chase my geese. He was in their pen today wandering around. Any one of my border collies would have killed them all given that kind of opportunity.
He's a real putz and is always running into stuff. He's pretty good about learning his way around, but my husband is always bringing home boats, cars, and other stuff, and if anything moves, Baloo crashes into it. He has boo boos all over his face and looks like he's been in a few fights, but it will never happen. He's just very sure of himself and learns quickly where things are. If something new comes home or if something is moved, he will crash into it. He doesn't walk around as if he's blind and most people don't even believe us until he runs into something... like their open car doors usually. He doesn't step around tentatively, but struts with bold abandon. He's a beautiful dog.
When he was a pup I would take him places with me. I took him to Lowes once and he was in the shopping cart on a blanket. Everyone loved him. One lady stopped and cooed over him. She was petting him and asked me what kind of dog he was. I told her he was a pit bull. You would have thought he shot lightning bolts out of his eyes and hit her in both shoulders!!! She jerked her hand back so fast it was rediculous! One minute he's adorable and she's petting him and then the word "pit bull" suddenly turned him into a dangerous monster. People can be so stupid! She wouldn't touch him again and left quickly. We call those kind of individuals "sheeple". They believe everything they hear in the media and don't even trust their own eyes when it's in black and white right in front of them.
Anyway, I just thought those skeptics out there might like to see what a true, well bred, properly raised pit bull acts like.
Baloo played with the pups for about an hour. Not a single pup yelped, squealed, or had any fear of him at all. He tripped himself to avoid stepping on one of the pups. He'll trip me, however. I haven't figured that one out yet. However, when he does, he licks me all over and appologizes so sincerely, you can't stay mad at him. He probably weighs about 75 pounds now. He's like a solid rock. He accepts pain without complaint, poor thing. I suppose it's a good thing the way he's always injuring himself. I can't believe he's never poked himself in his eyes. I pray that he never does. He holds them wide open and trusting. He was born blind so he has no idea he's different than anyone else.
People pull into my yard and stay in their cars. The power meter guys honk their horn until I call him to the house. UPS is the ONLY company that will deliver to my house. They bring dog biscuits for him which he loves. The others just dump our packages on the road by the gate. Stupid, stupid people! My blind dog has more sense than most of them do. He is a true sweetheart and only wants to be loved and paid attention to.
The punishment should fit the crime. Pit bulls aren't the vicious animals that they are portrayed to be. They are bred and trained by thugs and human animals to fight and be mean. A very dovoted and loving breed of dog is being victimized by a sick lowlife group of people, and the dog is the one that is labeled. People need to wake up and seriously punish the people who have the evil bred fighting dogs. Loving pet dogs should not be included in the equation. Dogs (of any breed) that bite, attack or show signs of being vicious should be destroyed without question or second chance. Just because a dog has the name of a pit bull does not make them any more dangerous than any other breed of dog. The BSL needs to leave people's gentle pets alone!
At the taking of these photos, Baloo was an uncut male. He has since been neutered and gained another 30 pounds. He is a very gentle dog.
Hope you enjoyed the pictures!
Oh, by the way, does anyone know where I might find a pair of dog goggles that would fit his big head? I really am worried about him poking out an eye the way he's always running into things. Thanks!

Baloo is a pit bull I got as a puppy. He was 4 weeks old when I picked him out and 6 weeks when I brought him home. He is a wonderful and gentle dog. He plays very well with all of my other dogs, including the studs and the puppies.
Baloo is completely BLIND. He has been since birth. If you want to see him growing up, check out the slideshow below. It will open in another window.
The short video at the end shows just how blind he is. I was only about 10 feet in front of him, standing very still, because his hearing is very good! Watch him looking for me! He's precious! He's always happy and always smiling.

This is Lazarus...
The true story of a "bait" dog.
Some of these photos are VERY graphic.
Lazarus came to me in September of 2009. He was almost healed on the outside, but it had been a long road for him. The vet figured him to be a little over a year old. We guess he was at least 1/2 boxer and the other part is a mystery...possibly staffordshire terrier.
Nobody knows for sure what his life was like before he was "saved". We guess he was tied up most of his life because he knew his way around a leash and never got tied up or tangled. He knew how to unwrap himself, which comes from experience. We don't know how he came to be a bait dog for dog fighters, nor do we know how he escaped them. He was found in Miami, running down the interstate, bloody, swollen, emaciated and delerious from loss of blood. He was covered with scars, scabs and fresh wounds, which showed he had been used more than once for this terrible sport.
A pair of angels found him running down the interstate and stopped to try and help him. At first he wouldn't trust them and it took them over two hours to gain his trust enough to get him into their car and to a vet. Of course it was a weekend, so they took him to an emergency vet, where he stayed until he could be stabilized a few days later. He was transferred to a (not so) regular vet when he was stable enough to be transported. This vet was also an angel, in that he too, was located in Miami, where bully breeds are illegal to have. He cared for and treated the dog for two months!
Finally, the dog was healed enough to get him out of there. The people that rescued him placed an ad on one of the rescue groups I check frequently. When I saw him, I just had to contact them and get him out of there, even if it was only temporary, as a rescue. Things got tough right away for me as I needed major surgery two days after I got him, and my family was not too interested in taking care of him. I wasn't in any condition to do so, so I let them know I would keep him until another rescue could be found for him. He has been sent to a rescue in Jacksonville now and hopefully has a new "forever" home.
I named him Lazarus because he was almost dead, but was brought back to life by these angels. There are so many beautiful pits, even young pups, being put to sleep every day. I just thought Lazarus deserved to have his story told. Even if it can convince someone to save ONE, than his life will not be in vain.
I've attached some "before" and "after" photos of some of his injuries. The "before" ones may be too much for someone with a weak stomach. Just imagine how this poor dog felt! We need to stop blaming the dogs and blame the "animals" that do this to them.
Thanks so much for reading!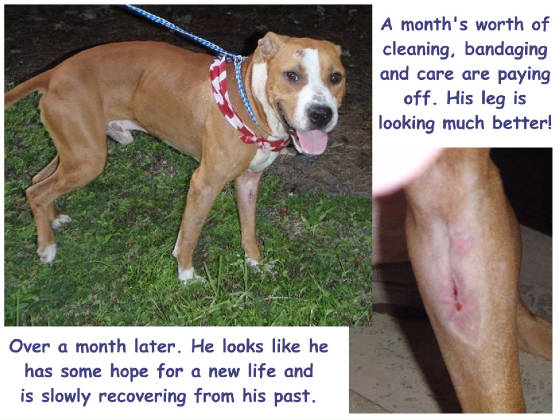 CLICK HERE TO GO TO THE SANCTUARY ANIMAL REFUGE, A SANCTUARY FOR DOGS OF ANY BREED WHICH HAVE BEEN ABUSED, NEGLECTED, AND ABANDONED. THESE WONDERFUL PEOPLE REHABILITATE AND FIND NEW HOMES FOR THESE POOR SOULS. THIS IS A VERY SPECIAL WEBSITE. IF YOU READ THIS WEBSITE, YOU WILL NOT BELIEVE WHAT HUMAN BEINGS ARE CAPABLE OF DOING!!! THIS IS AN INTERESTING SITE TO READ.